But you can still learn about the items we found important. Read below to find out what made our second skoolie so EPIC!
Main Highlights of this Converted School Bus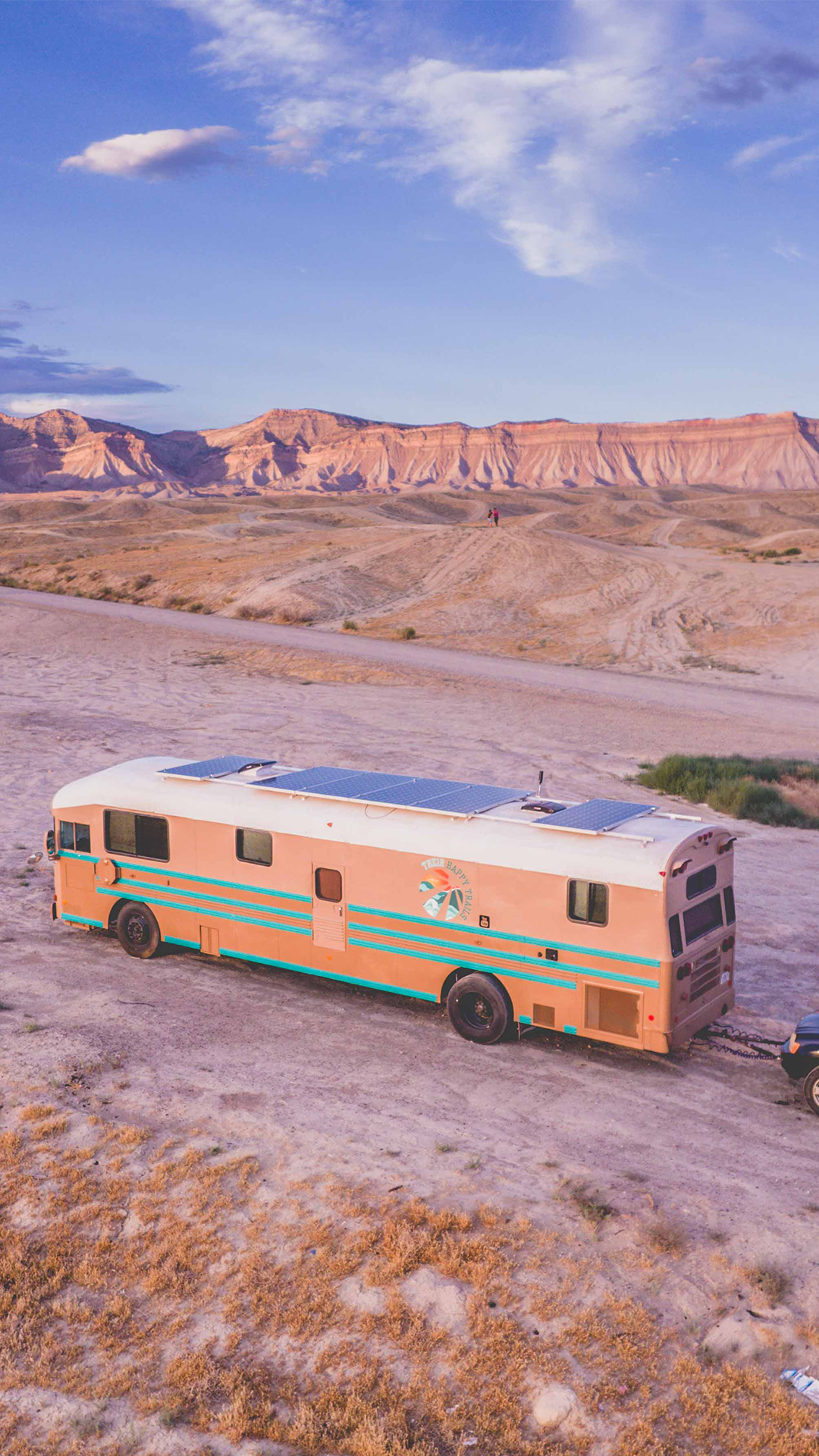 15" Roof Raise
The Roof Raise on this Skoolie makes the interior ceiling height 7'4", and the very tallest point of the exterior is 12'6" which is the WeeBoost Cellular Booster antenna. The skoolie is a safe height for traveling anywhere without any issues.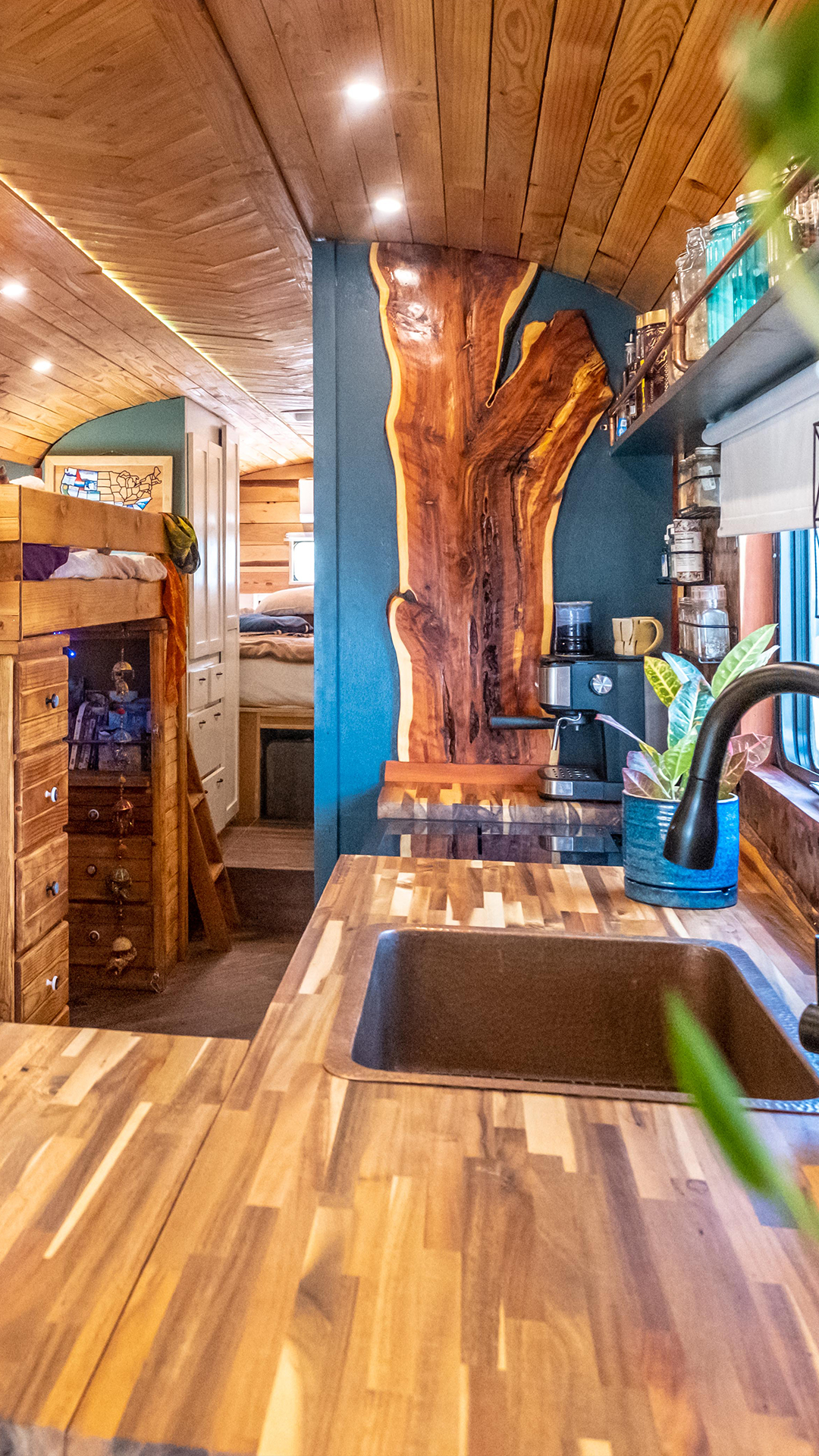 Beautiful & Functional Interior
This was built to be a full time home. This skoolie has all the comforts of a normal home compacted into a 350sqft that can travel the country.

While designing the bus, we made it a space of calming colors, tons of natural elements, and stunning live edge Florida Cedar pieces throughout. With the integration of copper accents it has a modern feel, while still holding its roots of being in touch with nature.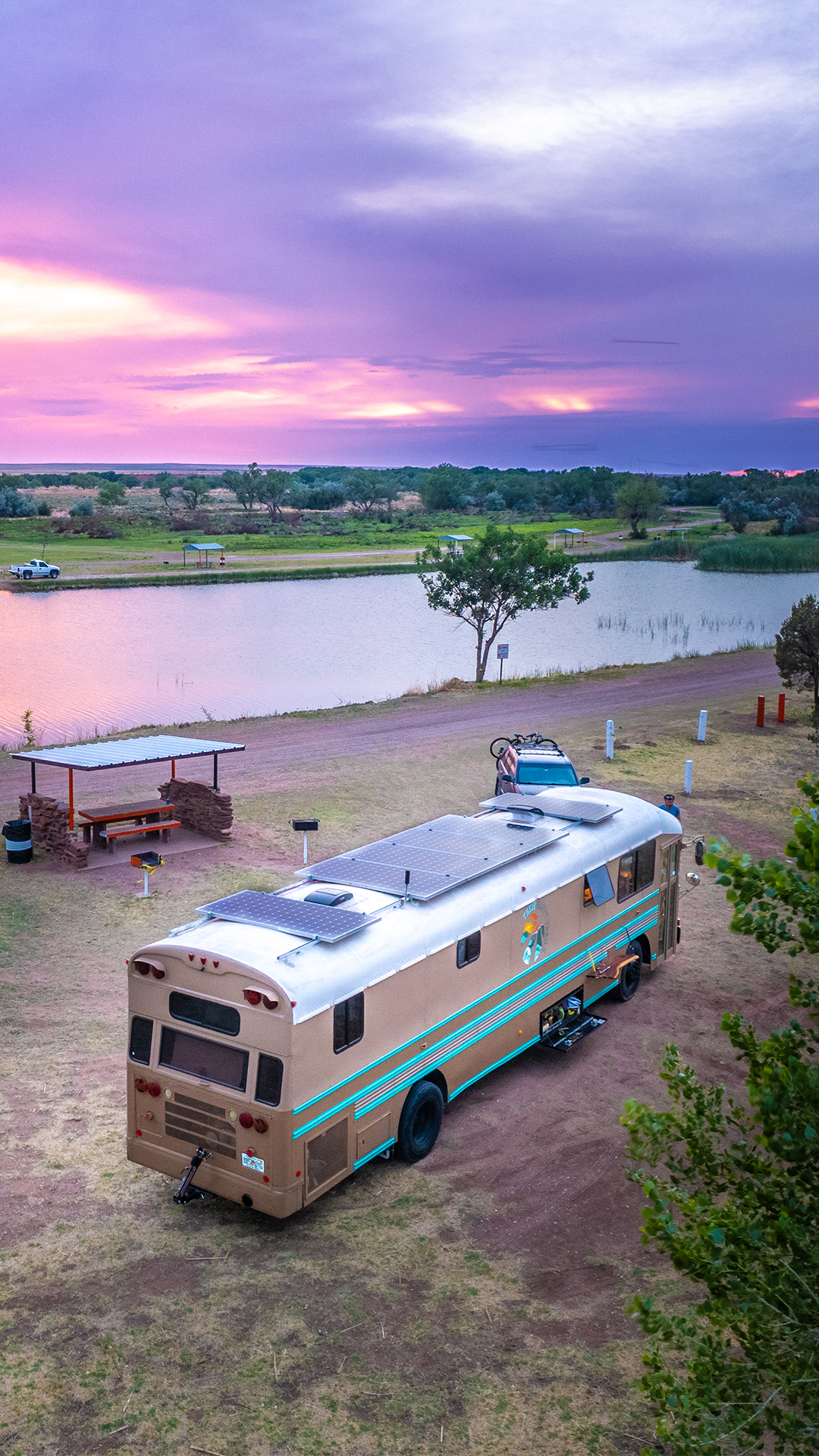 Powerful Solar System
With 2600 watts of solar on the roof, this skoolie conversion has the power to run large load appliances like AC, espresso machine, hot water heater, and everything else as person might want completely off-grid.

We used Victron solar components which are top of the line, and offer many features that most systems do not.
Incredibly Functional Living Space
Host friends and family, multiple sleeping areas, cook full meals, and enjoy the comforts of a home on the road, or parked in the woods.
Full Kitchen
Cooper sink, residential fridge, 3 burner stove & oven, large pantry, and 15 drawers alone in the kitchen
King Bed
In addition there is storage on the sides of the bed, a smart TV, AC unit, and upper storage.
200 Gallons of water Storage
Under the bed host large storage areas, water tanks, and the plumbing system.
Powerful Motor & Transmission
This bus has a Cummins 8.3 diesel motor with an Allison M3060 transmission. This motor and transmission are some of the best ones a skoolie can have. Reliable and incredibly strong.
-2003 40ft Bluebird All American school bus
-Cummins 8.3 with a Allison M3060 Transmission 
-No Def system, which is a huge bonus!
-The bus came from a wealthy school district from AR that maintained the bus very well.
-7.5mpg while towing a vehicle.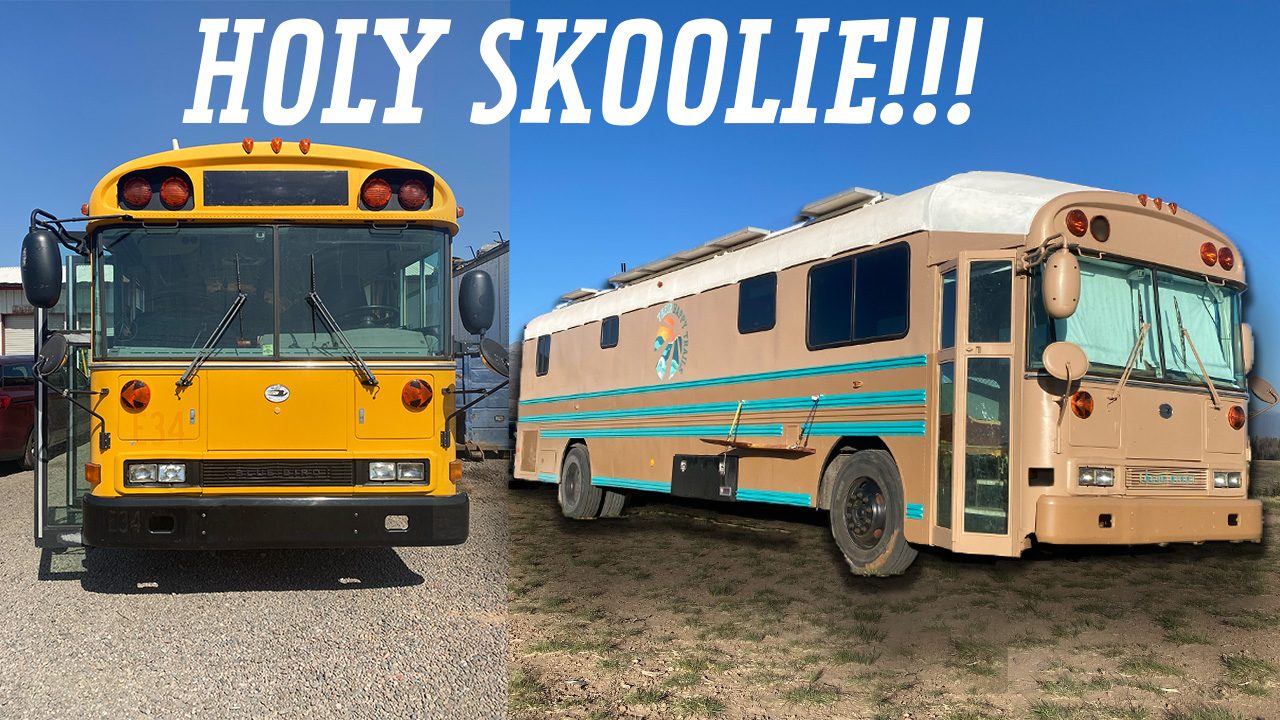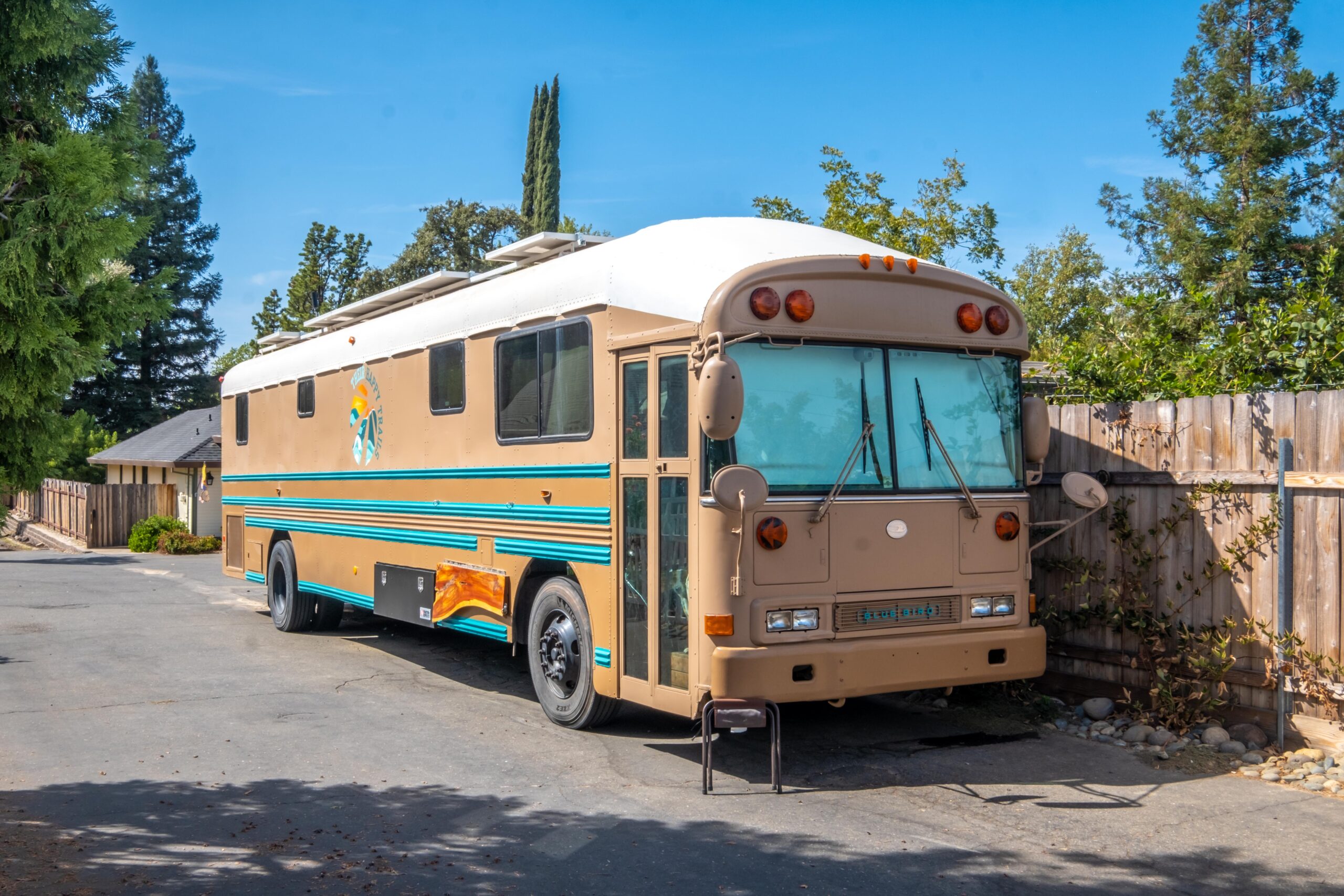 -15in Roof Raise
-Exterior max height is 12'6″
-Industrial oil based enamel paint
-High quality RV windows from RecPro.com
-Folding Cedar Table
-3 Tool Boxes
-Tow Hitch
-Both compressors for AC units are outside and hidden
-Henry's elastomeric roof paint 
-2600w of solar panels on the roof
-7200 watt hours of lithium battery
-24V sytem
-Code compliant 
– Victron Mulit-Plus 3000w inverter, 70amp charger, and passthrough 
-Victron MPPT 150 [] 100 TR Can
-PV Breaker Box
-Code compliant 110v breaker panel and wiring
Watch our solar explanation video to learn what each of those components are above.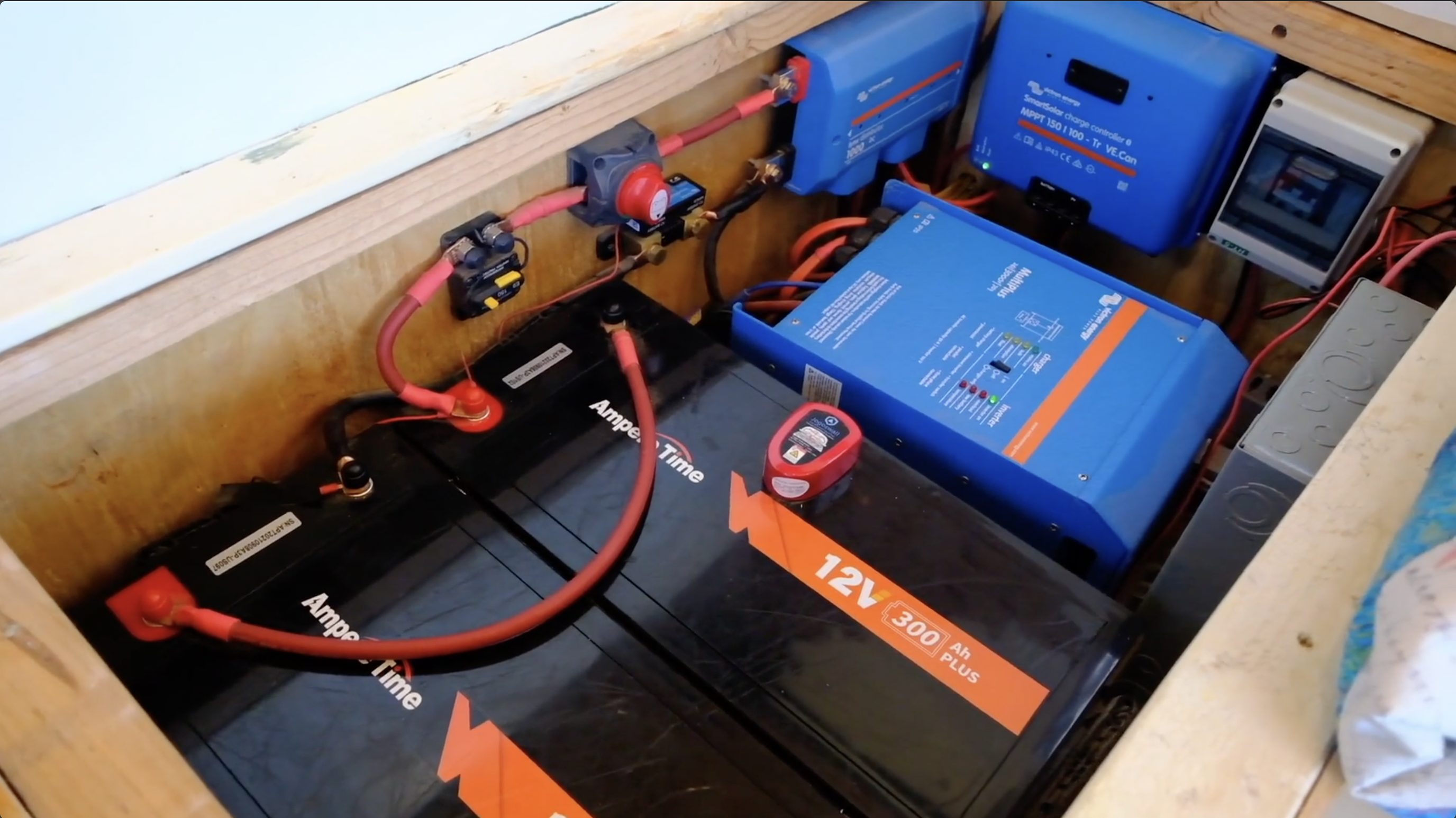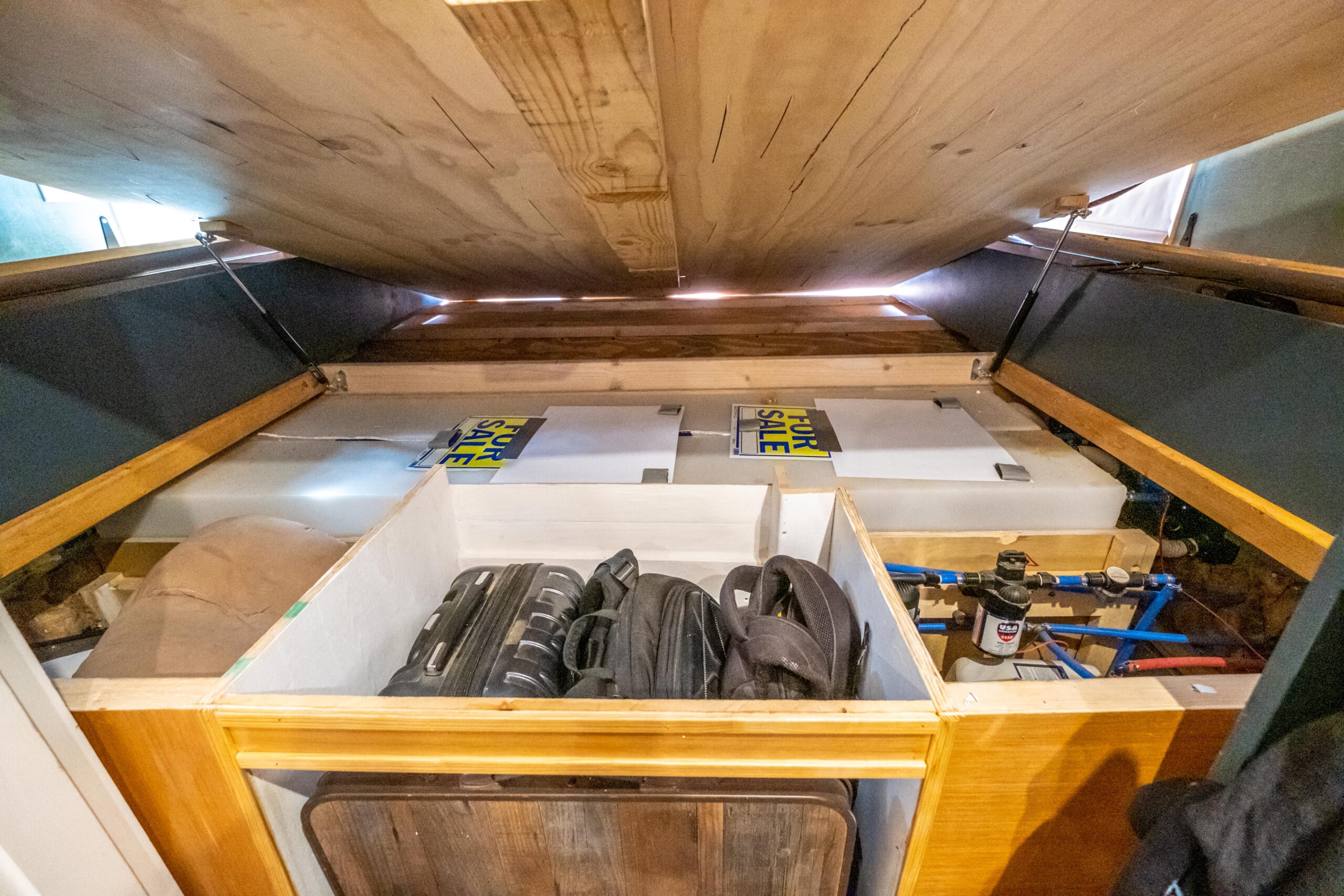 -200 gallons of fresh water storage
-4.2 gallon hotwater heater
-water pump & accumulator tank
-Pex Piping 
-All water is inside the bus, so there is no chance of freezing pipes
-65 gallon greytank
-No black tank because of composting toilet 
-20lb exchangeable propane tank
-Propane only is used for stove and oven
Watch this video for a in-depth explanation of the skoolie's plumbing system
Check out our bus
with Tiny Home Tours
Building your own bus?
Contact us for help!